Illuminate your complexion with Sense Naturals Ayurvedic Skin Glow Oil!
Country of Origin: India
Quick Overview
Aditya – Paka method has been used widely in Ayurveda by the ancient seers for preparing oils in treating skin ailments. Aditya means sun and paka mean preparation.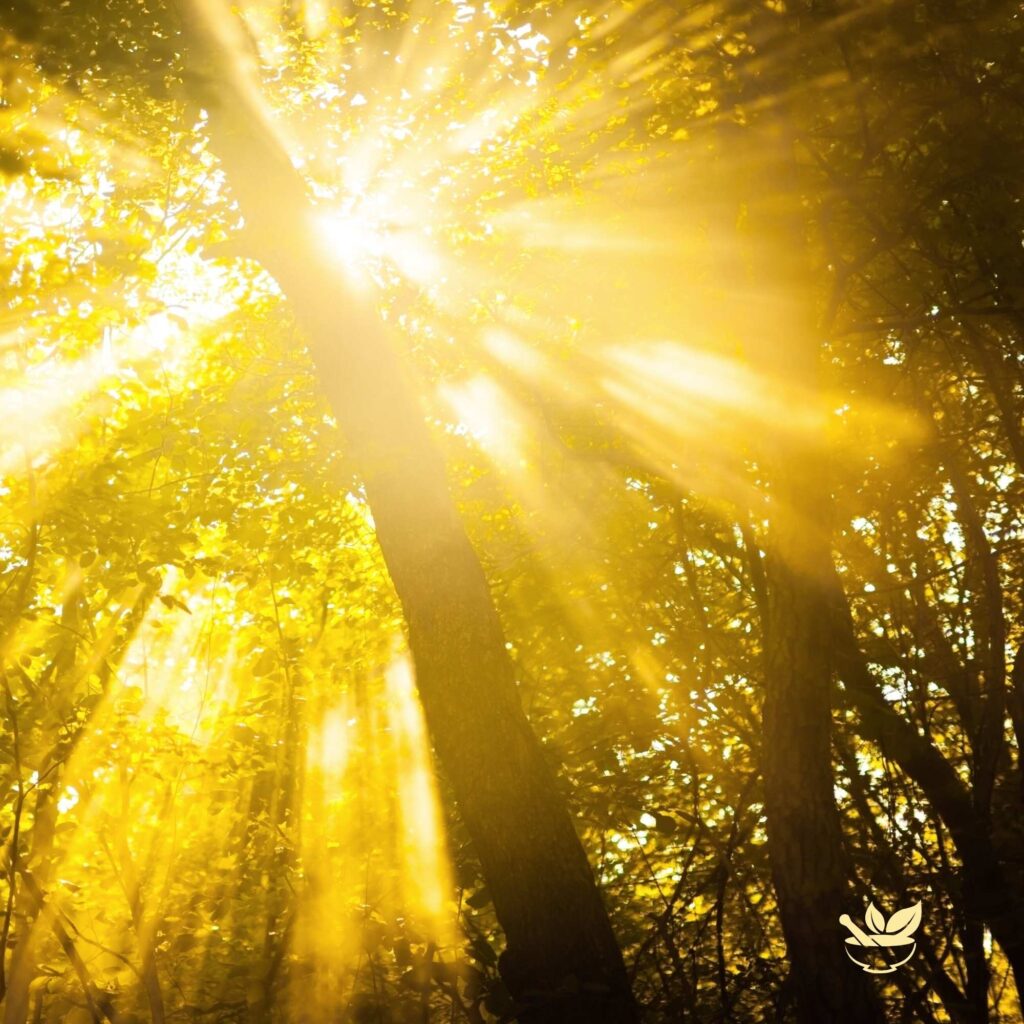 The Aditya-Paka preparation methodology used in the preparation of  Sense Naturals Ayurvedic Skin Glow Oil is an ancient ayurvedic technique used to create skin care products that provide maximum potency. This method uses the sun's heat for 7 days to slowly infuse the herbs, oils, and other natural ingredients. This Ayurvedic technique is an ancient secret used by the ancient seers for enhancing the properties of skin care products and giving magical results.

Best ayurvedic replacement for chemically loaded creams, lotions, oils or serums. This can be used in the face and body. Use just two to three drops for one application on the face. Regular usage of Sense Naturals Ayurvedic Skin Glow Oil helps to improve the overall texture, tone, and appearance of the skin

The magical combination of Ancient Aditya Paka Vidhi preparation methodology and the 19 ayurvedic ingredients in it helps in providing antioxidants, aiding in repairing the skin's protective barrier, and promoting collagen production, hydrating, nourish and repairing dry and dull skin making skin healthy, beautiful and brighter.

Feel your best and look your best with Sense Naturals Ayurvedic Skin Glow Oil. Our natural blend of oils helps to nourish and protect the skin while providing a beautiful, healthy glow. Regular application of the oil helps to reduce wrinkles and fine lines, making your skin look youthful and vibrant.

Safe for infants to adults.

Suitable for all skin types.

Licensed by Department of AYUSH, GMP Certified, ISO 9001 2015 Certified 
Material type
100% Natural
Paraben Free
Silicone Free
Sulphate free
Petroleum / Mineral oil-free
No Artificial Fragrance
No Artificial Color
No Harmful chemicals
Not Tested On Animals
Benefits
Lightens and brightens the skin
Evens out the skin tone
Removes sun tan and scars
Reduce dark circles, wrinkles, and blemishes
Makes skin healthy and youthful
Repair dry and dull skin
Treats all skin ailments like dermatitis, scabies, pruritus, etc.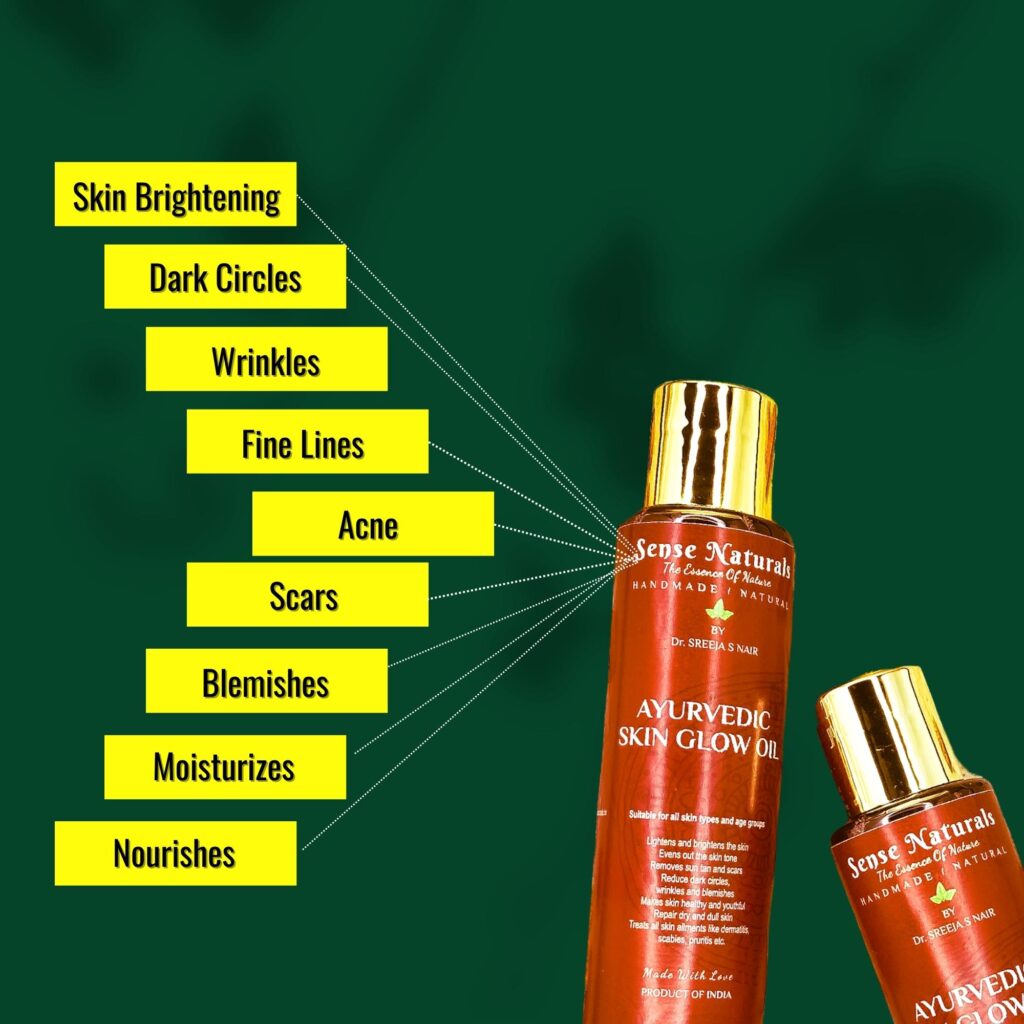 How to use it?
Take 1-2 drops (acne-prone skin) or 4-5 drops (other skin types) on your palm and rub them together (An ample amount of oil can also be applied on the whole body). Apply it on the clean skin. Massage in a circular motion for few minutes, till the oil absorbs well. Leave it as such (For acne-prone skin, rinse well-using Sense Naturals Neem wild turmeric glycerine bathing bar after 5 minutes).
For added benefits, follow these once a week:
For face: Apply an ample quantity of oil according to your skin type. Massage well in a circular motion for 3-5 minutes. Steam your face and then use Sense Naturals ready-to-face pack for scrubbing. Scrub for 1-2 minutes. Rinse well with Sense Naturals Neem Wild Turmeric glycerine bathing bar (for acne-prone skin) or Detan Scrubbing bathing bar or Sense Naturals's Natural Bath Powder Snana Choorna.
For Body: Apply ample amount of oil and massage well for 5 minutes. Leave it as such for 10-20 minutes for maximum benefits and rinse out using natural bath powder with lukewarm water.
Look and feel
It is a bright golden orange-colored oil. Natural herbal formulations tend to change color over time. However, the product efficacy remains unchanged.
FOR EXTERNAL USE ONLY
INGREDIENTS
Dineshavalli
Dineshavalli (Ventilago maderaspatana) has been widely used in Ayurveda for its ability to cure all skin disorders. Its anti-microbial activity helps in healing wounds.
Musta
Musta (Cyperus rotundus) rhizome possesses anti-microbial and anti-oxidant activities. It is used to treat pruritis and also in multiple skin disorders. It also enhances skin tone.
Aragvadha
Aragvadha (Cassia fistula) stem bark is proved to have anti-microbial properties. The anthraquinones present in it are responsible for the treatment of skin diseases. It has been widely used in ayurvedic medicines for the treatment of psoriasis, pruritus, etc. It possesses anti-bacterial property
Triphala
Triphala (Sanskrit; tri means three and phala means fruits) is a traditional revered ayurvedic herbal formulation consisting of dried fruits of three plant species Emblica officinalis (Family Euphorbiaceae), Terminalia bellerica (Family Combretaceae), and Terminalia chebula (Family Combretaceae) that are native to the Indian subcontinent. It is classified as a rasayana in Ayurvedic medicine as it promotes longevity and rejuvenation. They increase the levels of collagen and elastin, increase cellular antioxidants, and reduce hyperpigmentation, and thus acts as a powerful anti-aging agent.
Nalpamara
Ficus Tree is considered extremely auspicious and also has immense health benefits. It is an excellent remedy for skin-related ailments. Nalpamara include bark of four ficus trees Vata (Ficus bengalensis), Plaksha (Ficus macrocarpa) Udumbara (Ficus racemose) Ashwatha (Ficus religiosa)
The tree bark is rich in vitamin K. Thus, it helps in improving the complexion, texture, and overall appearance of skin. They also reduce the inflammation and heal the skin
Manjishta
Manjishta (Rubia cordifolia) commonly known as Indian maddar has been extensively used for obstinate skin diseases. They possess anti-microbial, anti-inflammatory, anti-oxidant activities. Thus, it helps in curing acne and improve the overall health of the skin.
Yashtimadhu
Yashtimadhu (Glycyrrhiza glabra) contains a glabridin which is a potent antioxidant and skin lightening agent. It is anti-inflammatory and helps in reducing pigmentation. The glycyrrhizin in licorice also possesses anti-inflammatory, anti-microbial, and anti-aging properties.
Kasturi Haridra
Kasturi haridra (Curcuma aromatica) is rich in anti-inflammatory agents and thus promotes blood circulation and enhance skin tone. It reduces pigmentation and blemishes
Nimba
Nimba (Azadirachta indica) has been known to possess incredible health benefits for centuries. It is extensively used in various skin diseases due to its antimicrobial properties. It detoxifies, exfoliates, and heals the skin.
Ananthamoola
Anantmool (Hemidesmus indicus) is a good source of phytochemicals like saponin, glycosides, flavonoids, tannins, etc. It is a good source of "saponin" that imparts a good cleansing property that helps to remove dirt and impurities. Hemidesmus indicus also contain flavonoids and nutrients like copper, iron, manganese, vitamins A and D, and zinc making it a good anti-aging ingredient and stops the development of pigmentation, such as a pigmented spot by aging or sun tanning and freckles. It is effective in inhibiting elastase, collagenase, tyrosinase activity, preventing and improving skin aging, pigmentation due to insolation, senile plaque, freckle, chloasma, facial mottle, etc. It acts as a skin nourisher, anti-acne, anti-microbial, anti-oxidant, immune-modulation, anti-inflammatory, cleanser, fairness for skin, and protection of skin from UV radiation from the sun.
Ushira
Ushira (Vetiveria Zizanoides) is known to possess Twak dosha hara property (treats skin diseases) and Varnya (improves skin tone). It is widely used in Ayurveda for all skin concerns as well as for kiver conditions etc. They have anti-microbial and anti-oxidant properties.
Nalikera Taila
Coconut oil is extracted from the kernel of mature coconuts harvested from the coconut palm (Cocos nucifera) and is composed of many free fatty acids including lauric acid, myristic acid, palmitic acid, caprylic acid, capric acid, oleic acid, linoleic acid, and stearic acid, which is inevitable for healthy skin and hair. Coconut oil has been shown to be effective and safe to be applied as moisturizers for mild to moderate xerosis. The topical application of coconut oil protects the skin from UV radiation.
Monolaurin, a monoglyceride derived from lauric acid displays antimicrobial activity. It helps in keeping the skin soft and smooth, prevents premature aging of the skin, removes dandruff, helps in checking greying and hair fall and also works wonders on stretch marks and scars.
Til Taila
Til taila or sesame oil is derived from Sesamum indicum. The lignans like sesamin, sesamolin, and sesaminol exhibit high anti-oxidant properties. The topical application of sesame oil protects the skin from UV radiation. It also has anti-inflammatory action.
Vatada Taila
Vatada taila or almond oil is derived from Prunus amygdalus. Its emollient property not only moisturizes but also enhances the skin tone. Almond oil also protects the structural skin damage caused by UV radiation.